Ingredients:
3 tbsps natural yoghurt
1tbsp lemon juice
1 garlic glove, crushed
½ tsp cumin
½ tsp garam masala or curry powder
4 skinless chicken breasts, cut into strips
175g/6oz chopped nuts
4 tbsps desiccated coconut
Oil for greasing
For dipping:
1 tbsp smooth peanut butter
2 tsps natural yoghurt
Method:
Preheat oven to 180°C/gas 4 and lightly grease a baking tray.
To make the marinade; mix the yoghurt, lemon juice, garlic, cumin and garam masala in a bowl,
Dunk the chicken breast strips in the mixture. If you have time; cover the marinating chicken and leave for at least 30mins in the fridge or overnight if you're super organised.
Mix the chopped nuts with the coconut on a plate and coat each strip in the nutty mixture.
Place each strip onto a lightly oiled baking tray and bake for 20-30mins until golden brown and cooked through
For the peanut butter dip mix the peanut butter with the natural yoghurt. Adding more yoghurt will make the dip slightly runnier and better for dipping so feel free to adjust the balance to suit
---
Children's party food can be fun and healthy, too. You can make simple and nutritious savoury treats which will outshine the sandwiches so often scorned by young party guests and give them sweet treats which won't end in a sugar rush and party chaos.  These party bite recipes from registered nutritionist and mum to two boys, Catherine Lippe, will add the perfect finishing touch to a Dizzy Rhino party.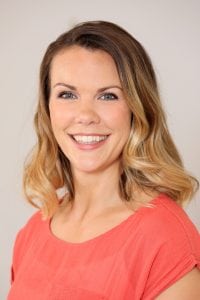 Catherine is a Registered Nutritionist (RNutr) specialising in children's nutrition.
She has over 10 years' experience as a Registered Nutritionist and has worked in both the private and public sectors including the NHS and Public Health England.
After having two young boys of her own Catherine now works as a freelance consultant paediatric nutritionist offering families, individual's, early years settings and schools practical, tailored advice on many aspects of nutrition including:
• Weaning workshops and one-2-one consultations
• Fussy eating advice
• Optimum nutrition for pregnancy and breastfeeding
• Healthy eating for the whole family
• Training and menu planning service for nurseries and childcare settings